"Education is the key to unlock the golden door of freedom"
This is a shared belief of Ky‑Mani Marley and the Love Over All Foundation (L.O.A.F.) as we continue to face global challenges and their increasing impact upon the youth.  Ky‑mani Marley is committed and inspired to do his part by spreading positivity and good will through L.O.A.F.
This charitable organization was created as a means of 'giving back' to the community and uplifting our children.  Using the organization's mantra "Love Over All", Ky‑mani is encouraging young minds to spread the word of love.
The Love Over All Foundation is focused on securing the necessary funds and resources to rebuild schools, supply the basic necessities needed in classrooms, enhance communities, and provide all children with access to education – the key to freedom.
"It's always humbling to be inspired by others and rewarding to inspire the youth."
– Ky‑mani Marley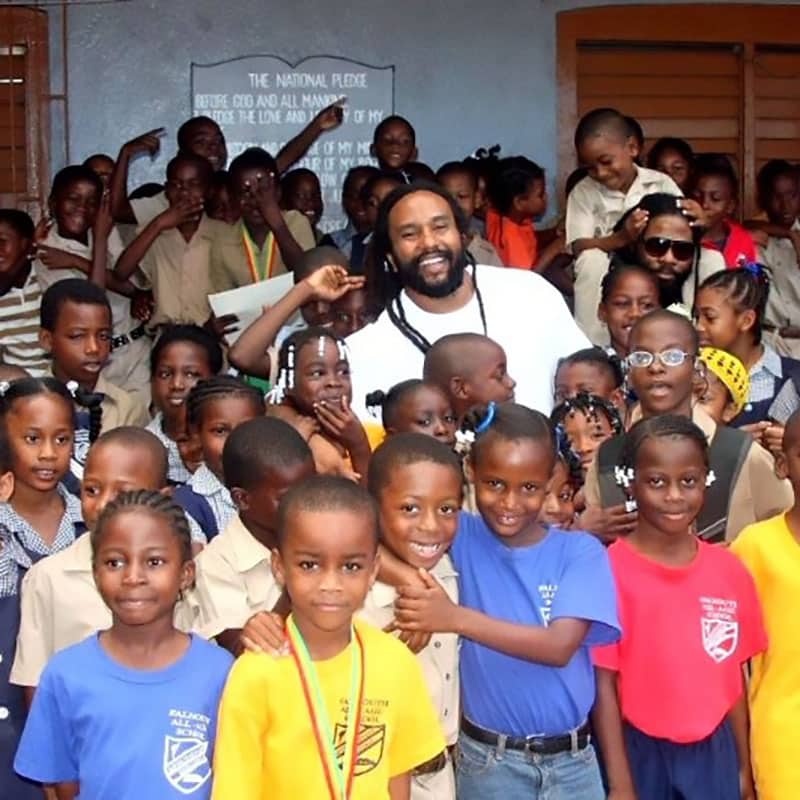 Born in Falmouth, Trelawny, Ky‑mani Marley is passionate about his birthplace. Doing his part to assist the residents in the community. Ky‑mani is focused on restoring values, rebuilding schools, supplying the basic necessities needed in the classrooms and revitalizing the community. Combining his musical career and his renown passion for the game of football, as a player and a fan, Ky‑mani has embarked on this journey.
After several years of supporting the Falmouth Football Club providing sports equipment, uniforms, jerseys and finances, he decided to become directly involved. Along with his childhood friend Luumba Green a.k.a. Che, they acquired ownership of the Falmouth United Football Club (FUFC), formerly Village United. Ky‑mani became involved with the day‑to‑day hands on club activities, which lead to 2017 champions further fueling the communities vision of growth.
They have come together supporting the various activities, working on the grounds, rebuilding and painting the club-house. Ky‑mani works with coaches for team selection tryouts, training and daily practices. It has been a tedious but rewarding process to see the young kids enjoy the space and to see the gratification on faces of parents. But there is still a lot to be done. While we have activated the pulse of the revitalization, igniting the torch through (FUFC), the journey is costly.
"One step at a time, strength in numbers, through your support we will continue to make a difference."